Shaping sustainable living, together
As a global family business, we develop and co-create– in an innovative, entrepreneurial and sustainable way - to enhance the quality of living and working for every generation. Shaping sustainable living, together.
Our roadmap to 2030
As a company with a family heritage and culture, we believe that it is our responsibility to take a proactive role in seeking solutions to continuously improve the ecological footprint of our products. From design to production and distribution: every phase of our supply chain offers opportunities to protect the planet. We proudly invest in the long term, to develop products that serve our customers' needs in the most sustainable way.


In alignment with Beaulieu International Group's sustainability roadmap, we are taking the necessary steps to achieve 100% renewable energy in our operations by 2030.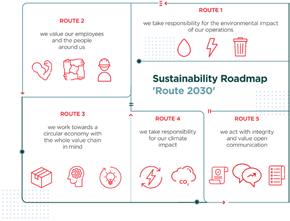 United Nations Sustainable Development Goal
At B.I.G Yarns, we fully commit to integrate the UN Sustainable Development Goals into our business activities, by taking responsibility and bringing sustainable solutions into our core operations, creating value for our customers, and engaging employees and value chain partners.