Endless inspiration tailored to your needs
With endless colors and color combinations in our color lab, you can imagine the infinite possibilities to shape our yarns into beautiful carpet designs all over the world. Our people go to visit clients all over the world with personalized mood boxes, adapted to the wishes and techniques that make every carpet manufacturer unique, whether that's in Europa or Asia Pacific.
At the heart of our yarns, you can find our Color Development Team. They translate their vision for the future in colors and ideas for you.
Where do we get inspired?
When looking for new colors and trends, inspiration can come from anywhere. Trade magazines, architecture, textiles, fashion, clothing, … The goal is to look 2 years into the future to make sure an end product is cutting edge when clients bring it to the market.
We do however take that end product into account when we're integrating new trends into our mood boards. For example, if Nordic green is a trending color, we won't just suggest to make carpets in that color, but we'll hint to it. The end product should reflect the trend of the time, but be timeless in design.
How do we translate our inspiration to your needs?
Trends are great, but in the end, you are looking for flooring solutions that make you stand out. That's where the endless opportunities kick in: one or more masterbatch colors get turned into yarns where we define thread thickness, color intensity, contrast, gradients… Just see what we can do with the same color below: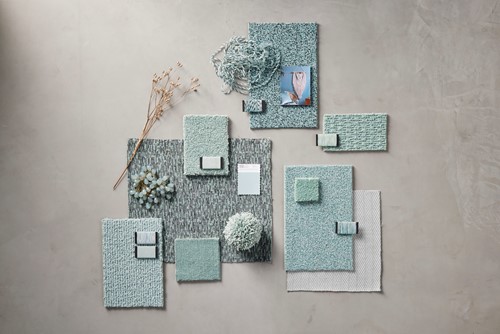 The translation is tailored to the needs of the client. We have different ideas for contract, residential or automotive markets and constantly work on new combinations with existing colors or new masterbatches.
What makes our color development team unique?
We believe no one can do what our Color Development Team does. Not only do we have more than 30 years of experience in bringing inspiration and solutions in yarns, our technical abilities and knowledge give us the guarantee that everything is possible.
We pride ourselves in not just selling yarns, but offering solutions and servicing our customers. They are partners that we want to help succeed. And on top of that, we're constantly working on bringing new ways of inspiration to our customers. One of those outings is Catch the Color, where we put a digital and accessible extension to our tailor-made work for our clients.
Interested in working together, or just wanting to have a chat about the trends of the future? 
Get in contact with us and follow us on LinkedIn and Instagram.