Automotive flooring, mats, moulded into trunk compartments
Premium cars come with superior yarns. Our polyamide or polypropylene yarns, used for flooring, mats or moulded into trunk compartments of some of the most prestigious brands, meet today's most stringent requirements. They are :
antifogging,
odourless,
UV-resistant and
comply to international automotive standards.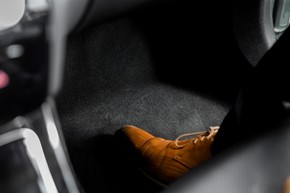 Masterbatch department
And when it comes to colour demands, we abide by a 'no tolerance' approach. Thanks to our own masterbatch department, we are able to quickly provide you with the perfect color. Your product request comes with bespoke samples, allowing you to verify the accuracy prior to placing an order.
Lighter, softer and more durable automotive yarns
In this fast-changing segment, we continuously develop yarns that are lighter, softer and more durable. Thanks to these market-driven innovations, you can always count on the latest top-notch automotive yarn.